Any 3D printer needs to have an extruder to create any object. Among two different types of extruders like Direct and Bowden, PTFE tubing is used in 3D Printing with Bowden extrusion. PTFE tubing serves as a channel for pushing filament to the hot end for melting, which is then extruded and printed into 3D objects.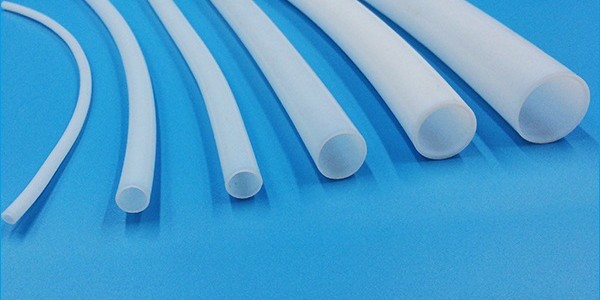 All You Need to Know About Why PTFE Tubing is Used in 3D Printing.
PTFE tubing is an essential component of every Bowden 3D printer. It acts as a filament guide tube to take it to the hot end and extrude it. Due to its frictional properties, it leads to consistent and dependable performance.
Keep reading to learn about PTFE tubing and the reason why it is used in 3D Printing.
PTFE stands for Polytetrafluoroethylene. PTFE tubing is a semi-transparent, non-reactive, non-toxic material with unbeatable heat temperature resistance and a surface made for liquids the flow of fluids.
PTFE tubes are made to resist high temperatures, heavy chemicals, and high voltages. Thus, the PTFE tubes can be used to transfer water and other heavy substances, wire cabling, and inside heat exchanging systems.
The 3D printing process divides an object into thousands of tiny thin strips, which are then constructed from the bottom up, slice by slice. Those little layers combine over one another to form a solid object. Without using any tools, you could print a complete bike, including handlebars, saddle, frame, wheels, brakes, pedals, and chain. It is all about leaving gaps in the appropriate places.
Usage of PTFE Tubing in 3D Printing
PTFE is a widely used component in filament-based 3D printers known as Bowden. Bowden-style 3D printers require the use of PTFE tubes to ensure the extruder can efficiently and adequately push the filament. The PTFE tube guides the filament to the extruder and hot end.
PTFE has low coefficient of friction and high tight tolerance, which increases the effectiveness of 3D Printing. As a result, the filament loading and transfer are simple, and the actual Printing is excellent. The low coefficient of friction ensures the filament is fed to the hot end at a steady rate with minimum pull force.
Advantages of PTFE Tubing in 3D Printing
PTFE tubes increase the printing quality of your 3D models. Here are two advantages of using PTFE tubing in Bowden 3D printers.
A) Higher Speed: Bowden PTFE tubes put less strain on the axis motors because the weight of the stepper motor is excluded. This means that less force and torque are required to achieve a high speed.
B) Higher Accuracy: Because Bowden extruders are lighter, 3D printers can move with less needed acceleration. As a result, they can achieve more precise movement, resulting in fewer inconsistencies in layers.
Besteflon is a superior PTFE tubing manufacturer in China. Besteflon is backed by experienced management looking after customer service and consistent quality improvement of products. Contact Besteflon to know more about PTFE tubing and for world-class PTFE products.
For over 16 years, we have accumulated experiences in PTFE hose production.
Huizhou Zhongxin Besteflon Industrial Co., Ltd. founded in 2005, is a high-tech enterprise professionally engaged in PTFE hose production R&D and sales. We have been specialized in ptfe hose, ptfe tube,ptfe convoluted tube, ptfe brake hose and ptfe hose assembly for 15 years. We have sets of production equipment and testing system. Our products with good performance and competitive price are selling at home and abroad.
We have a high-quality design team and a complete quality assurance system. We are equipped with many kinds of equipment like the pressure detector, precision gauge tester, insulation tester, temperature detector to ensure products having good performance and excellent quality.
In addition, all of our raw materials are selected from the qualified brands, such as DuPont, DAIKIN, domestic top level brand.
For over 16 years, we have accumulated experiences in PTFE hose production. We always adhere to the science and technology as the first productivity, the quality as the life of the factory, honesty and trustworthiness as the management way. We are committed to improve the quality of products, new product development and application of new technologies. And we owned several patent products.
We will continuously forge ahead, pursuit of perfection, develop more high quality products to feedback our customers.
| | |
| --- | --- |
| Business Type | Manufacturer, Trading Company |
| Main Products | SS PTFE Smooth Bore Hose, SS PTFE Corrugated Hose, PTFE Smooth Bore Hose, PTFE Corrugated Hose |
| Total Annual Revenue | US$1 Million - US$2.5 Million |
| Certifications | ISO9001,SGS, Quality control report, Test Report, Test Report |
| No. of Employees in Trade Department: | 10-15 People |
| Average Lead Time: | 15 Day(s) |
| Factory Size | 8,000-9,000 square meters |
| No. of Production Lines | Above 10 |
| Contract Manufacturing | OEM Service OfferedDesign Service OfferedBuyer Label Offered |
| Main Markets | Domestic Market 54.00%Southeast Asia 5.00%North America 5.00% |
| Factory Country/Region | Yuanbei, Longwu Team, Xiaojin Village, Luoyang Town, Boluo County, Huizhou City, Guangdong Province, China |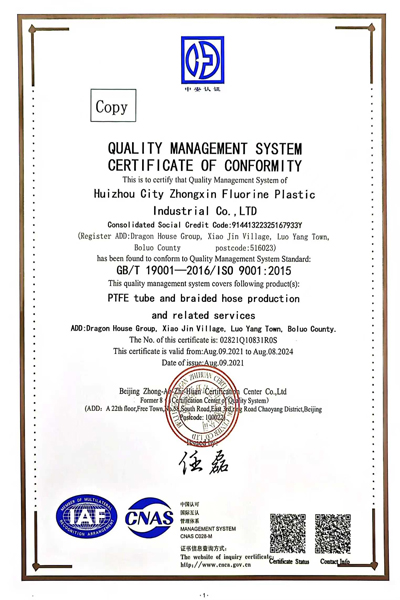 ISO9001-Produce PTFE Tube/Hose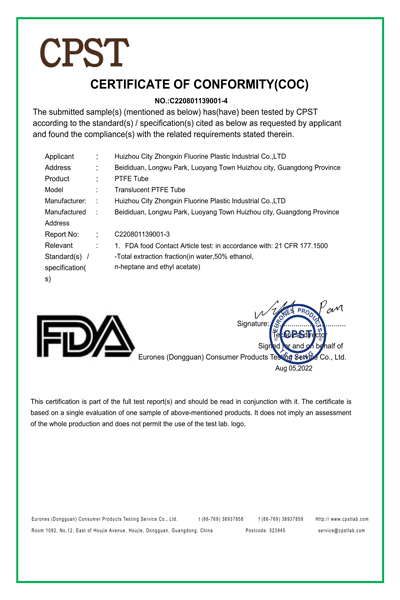 FDA-Polytetrafluorothylene Tube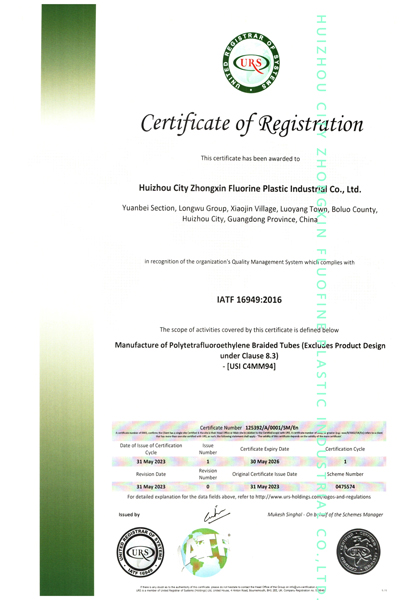 Production of Ptfe Pipes- IATF 16949:2016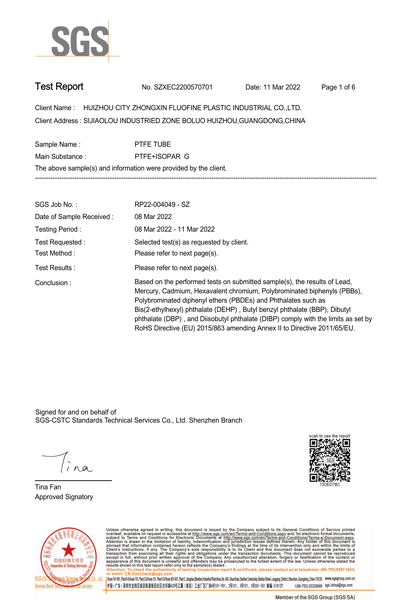 SGS-EU RoHS Directive 2015/863
SGS-Safety Data Sheet (SDS)
Contact us and request a quote for your PTFE hose.
---
Post time: Nov-15-2023