PTFE tubes are not only different in material, color, shape, but also very different in thickness. The different thickness greatly determines its applications.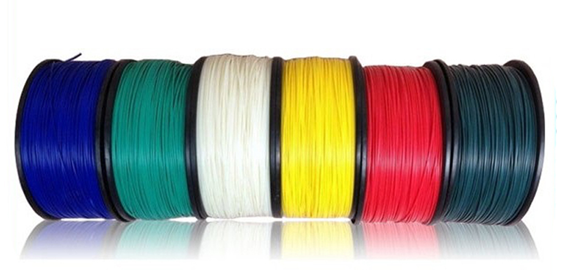 PTFE tubing thin wall (also called PTFE Capillary Tubing or PTFE Spaghetti Tubing) is the earliest and most common fluoropolymer product. Due to its high working temperature, superior chemical resistance and insulating properties, PTFE tubing has the widest range of applications. Internal thin-walled PTFE tubing with a clean smooth bore allows restricted free flow. PTFE tubing is thin and has low permeability to gases and liquids. PTFE is almost completely inert to chemical attack, but under special conditions it can be affected by substances such as alkali metals and halogens. PTFE tubing is heat resistant to 500°F and is ETO (ethylene oxide) and autoclave reusable. Fluoropolymer tubing is considered a highly flexible tubing, but the properties of PTFE tubing allow it to have the best flex life of the group. Smooth-bore thin-walled PTFE tubing has the lowest coefficient of friction of all known solid materials.
With its high lubricant performance, high melting temperature, biocompatibility, and super precision extruded tolerances, PTFE Thin Wall Tubing is the best choice for your demanding application. This tubing comes in American Wire Gage sizes.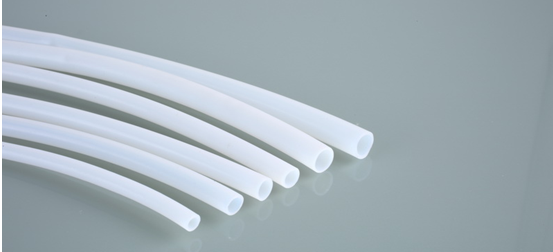 Much like our thin wall tube, this heavy wall PTFE tubing is ideal for industrial applications involving high pressure or high abrasion resistance requirements. This tube still possesses all the desired fluoropolymer properties, but with extra strength.
Heavy-wall PTFE tubing is ideal for automotive, chemical and mechanical applications. As the thickness of the pipe wall increases, so does the strength and burst pressure of the tubing. This product is ideal for use as labware or in conjunction with critical fluid handling equipment and applications.
Our Thin Wall PTFE Hose is a slightly thinner hose designed to handle above average pressure and temperature applications. Featuring an extruded PTFE inner layer and a single-layer stainless steel braided reinforcement/cover, the thin-walled PTFE hose is compact, robust and designed for extreme conditions where traditional rubber hoses fail.
Typically used to transfer hot steam, compressor discharge and hazardous chemicals, this hose has an operating temperature of -85°F to +500°F (max steam temperature is +388°F) and has an operating temperature range of 900 to 3500psi.
In addition, due to it's thin wall PTFE tubing, it is with light weight, better flexibility and can help to save your budget on the PTFE hose.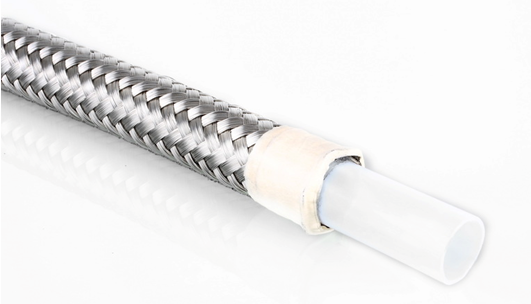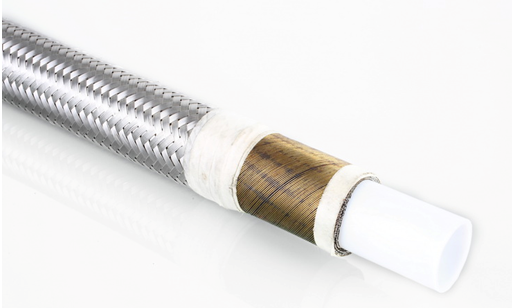 Heavy Wall PTFE Hose is a slightly thicker PTFE hose model that makes this hose more resistant to gas permeation as well as increased hardness and resistance to thermal cycling and to kink and over-bending compared to standard PTFE. Heavy-wall PTFE hose has an inner tube made of virgin PTFE fine powder (conductive versions are also available), stainless steel braided reinforcement/cover.
In addition to being used in steam and chemical transfer applications, heavy-walled PTFE hose is FDA-approved for food service, making it the more dynamic PTFE hose option. Its operating temperature is -85°F to 500°F and its operating pressure range is 900psi to 4700psi.
Buying the right PTFE tubing is not only about choosing different specifications for different applications. More to choose a reliable manufacturer. Besteflon Fluorine plastic Industry Co., Ltd. specializes in the production of high-quality PTFE hoses and tubes for 15 years. If any questions and needs, please feel free to consult us for more professional advice.
---
Post time: Aug-27-2022