What material is ptfe tube made of?
Product introduction
1、Ptfe tube is another name for polytetrafluoroethylene, the English abbreviation is PTFE, (commonly known as "Plastic King, Hara"), and the chemical formula is -(CF2-CF2)n-. Polytetrafluoroethylene was accidentally discovered in 1938 by chemist Dr. Roy J. Plunkett in DuPont's Jackson Laboratory in New Jersey, USA When he tried to make a new chlorofluorocarbon In the case of compound refrigerant. The products of this material are generally collectively referred to as "non-stick coating"; it is a synthetic polymer material that uses fluorine to replace all hydrogen atoms in polyethylene. This material is resistant to acids, alkalis, and various organic solvents, and is almost insoluble in all solvents. At the same time, PTFE has the characteristics of high temperature resistance, and its friction coefficient is very low, so it can be used as a way of lubrication, and it has also become an ideal coating for the inner layer of non-stick pots and water pipes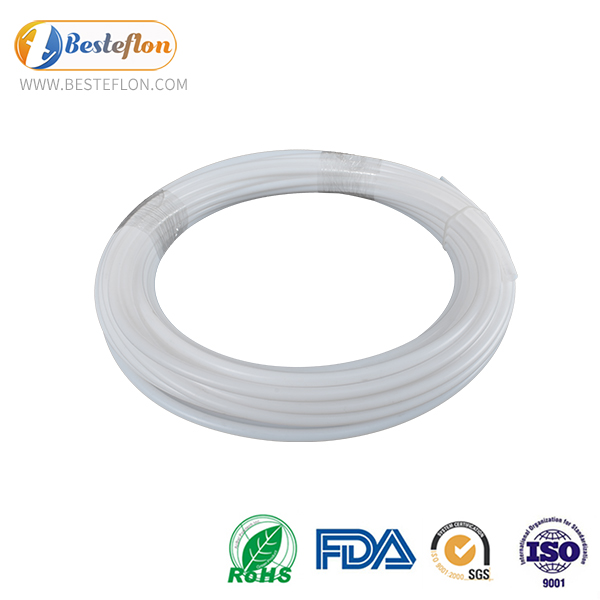 This products materials are mainly used on the following products:
PTFE, FEP, PFA, ETFE, AF, NXT, FFR.
PTFE: PTFE (polytetrafluoroethylene) non-stick coating can be used continuously at 260°C, with a maximum use temperature of 290-300°C, extremely low friction coefficient, good wear resistance and excellent chemical stability.
FEP: FEP (fluorinated ethylene propylene copolymer) non-stick coating melts and flows to form a non-porous film during baking. It has excellent chemical stability and excellent non-stick characteristics. The maximum use temperature is 200 ℃.
PFA: PFA (perfluoroalkyl compound) non-stick coating melts and flows during baking to form a non-porous film like FEP. The advantage of PFA is that it has a higher continuous use temperature of 260°C, stronger stiffness and toughness, and is particularly suitable for use in anti-sticking and chemical resistance applications under high temperature conditions.
PTFE (Polytetrafluoroethene) is a synthetic polymer material that uses fluorine to replace all hydrogen atoms in polyethylene. This material is resistant to acids, alkalis, and various organic solvents, and is almost insoluble in all solvents. At the same time, ptfe tube has the characteristics of high temperature resistance, and its friction coefficient is very low, so it can be used for lubrication, and it has also become an ideal coating for easy-to-clean woks and water pipes. It can be used for pipeline corrosion resistance, high and low temperature resistance, and corrosion resistance. Used in harsh environments such as lubrication, engineering, electronics, electrical appliances, and aviation.
1、High and low temperature resistance: little effect on temperature, wide temperature range, applicable temperature -65~260℃.
2、 Non-sticky: Almost all substances are not bonded to the PTFE film. Very thin films also show good non-interference performance. 2. Heat resistance: PTFE coating film has excellent heat resistance and low temperature resistance. It can withstand high temperatures up to 300°C in a short time, and generally can be used continuously between 240°C and 260°C. It has significant thermal stability. It can work at freezing temperatures without embrittlement and does not melt at high temperatures.
3、Sliding property: PTFE coating film has a higher coefficient of friction. The friction coefficient changes when the load is sliding, but the value is only between 0.05-0.15.
4、Moisture resistance: The surface of the PTFE coating film does not stick to water and oil, and it is not easy to stick to the solution during production operations. If there is a small amount of dirt, simply wipe it off. Short time wasted, saving working hours and improving work efficiency.
5、Wear resistance: It has excellent wear resistance under high load. Under a certain load, it has the dual advantages of wear resistance and non-interference.
6、Corrosion resistance: PTFE is hardly corroded by chemicals, and can withstand all strong acids (including aqua regia) and strong oxidants except molten alkali metals, fluorinated media and sodium hydroxide above 300°C. The role of reducing agent and various organic solvents can protect parts from any kind of chemical corrosion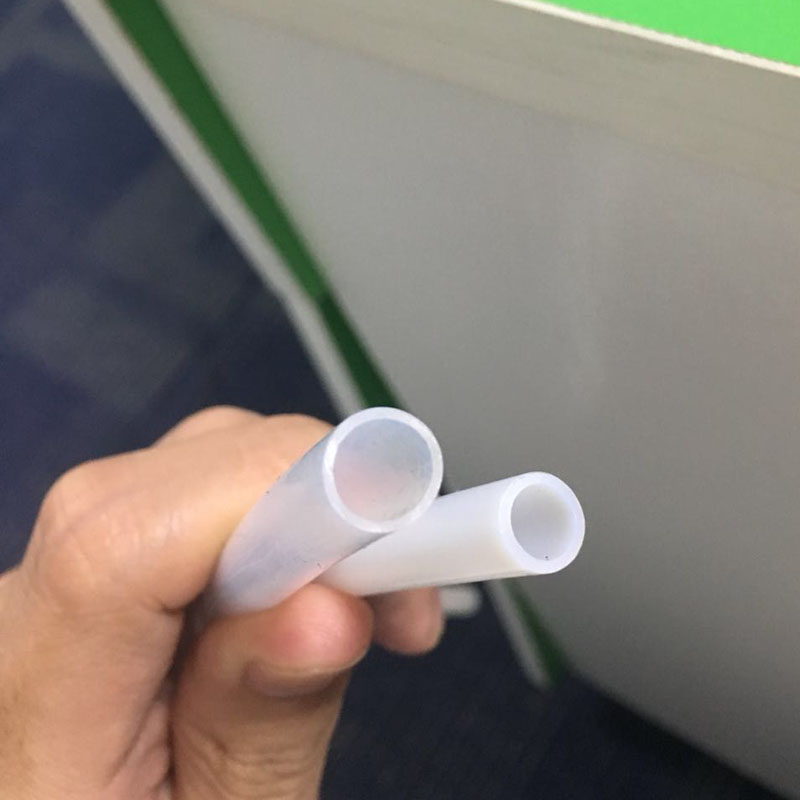 chemical property
1、Insulation: Not affected by the environment and frequency, the volume resistance can reach 1018 ohm·cm, the dielectric loss is small, and the breakdown voltage is high.
2、High and low temperature resistance: little effect on temperature, wide temperature range, applicable temperature -190~260℃.
3、Self-lubricating: It has the smallest coefficient of friction among plastics and is an ideal oil-free lubricating material.
4、Surface non-stickiness: known solid materials can not adhere to the surface, it is a solid material with the smallest surface energy.
5、Weather resistance, radiation resistance and low permeability: long-term exposure to the atmosphere, the surface and performance remain unchanged.
6、Incombustibility: The oxygen limit index is below 90.
7、PTFE is widely used in industries requiring high temperature resistance and high viscosity. The strongest super acid-fluoroantimonic acid can also be used for preservation
Product application area
Polytetrafluoroethylene can be formed by pushing or extruding; it can also be made into a film and then cut into a shaft-mounted PTFE tape when used in high-temperature wires. It is used to produce high-frequency cables and directly made into water dispersion. It can be used for coating, impregnation or fiber making.
Polytetrafluoroethylene is widely used in industries such as nuclear energy, national defense, aerospace, electronics, electrical, chemical, machinery, instruments, meters, construction, textiles, metal surface treatment, pharmaceuticals, medical care, food, metallurgy and smelting, etc. Corrosive materials, insulating materials, anti-stick coatings, etc. make it an irreplaceable product.
PTFE hose has outstanding excellent comprehensive properties, high temperature resistance, corrosion resistance, non-stick, self-lubricating, excellent dielectric properties, and a very low friction coefficient. Used as engineering plastics, it can be made into PTFE tubes, rods, belts, plates, films, etc. Generally used in corrosion-resistant pipelines, containers, pumps, valves, radar, high-frequency communication equipment, radio equipment, radomes, etc. with high performance requirements. Adding any filler that can withstand the sintering temperature of polytetrafluoroethylene, its mechanical properties can be greatly improved. At the same time, other excellent properties of PTFE are maintained. Filled varieties include glass fiber, metal, metal oxide, graphite, molybdenum disulfide, carbon fiber, polyimide, EKONOL, etc. The wear resistance and limit PV value can be increased by 1000 times
Searches related to ptfe hose:
---
Post time: Jan-07-2021