clear covered ptfe hose AN8 for brake system | BESTEFLON
Product Detail
FAQ
Packaging
Product Tags
Clear covered ptfe hose AN8 for brake system
Each brake line is covered with a wear-resistant PVC sleeve to protect the pipe from dust and water (should be removed at the end to suit installation)
With the passage of time and hard use for a long time, the standard rubber brake line will usually expand under the pressure generated when the brake is applied. This continuous expansion will stretch the rubber hose to a point where it can no longer provide the required performance over a long period of time. The steel braid is not affected by this expansion property, so providing more consistent performance during braking helps to eliminate brake fade and produce a more consistent brake pedal feel, which will far exceed the last OEM rubber hose and look better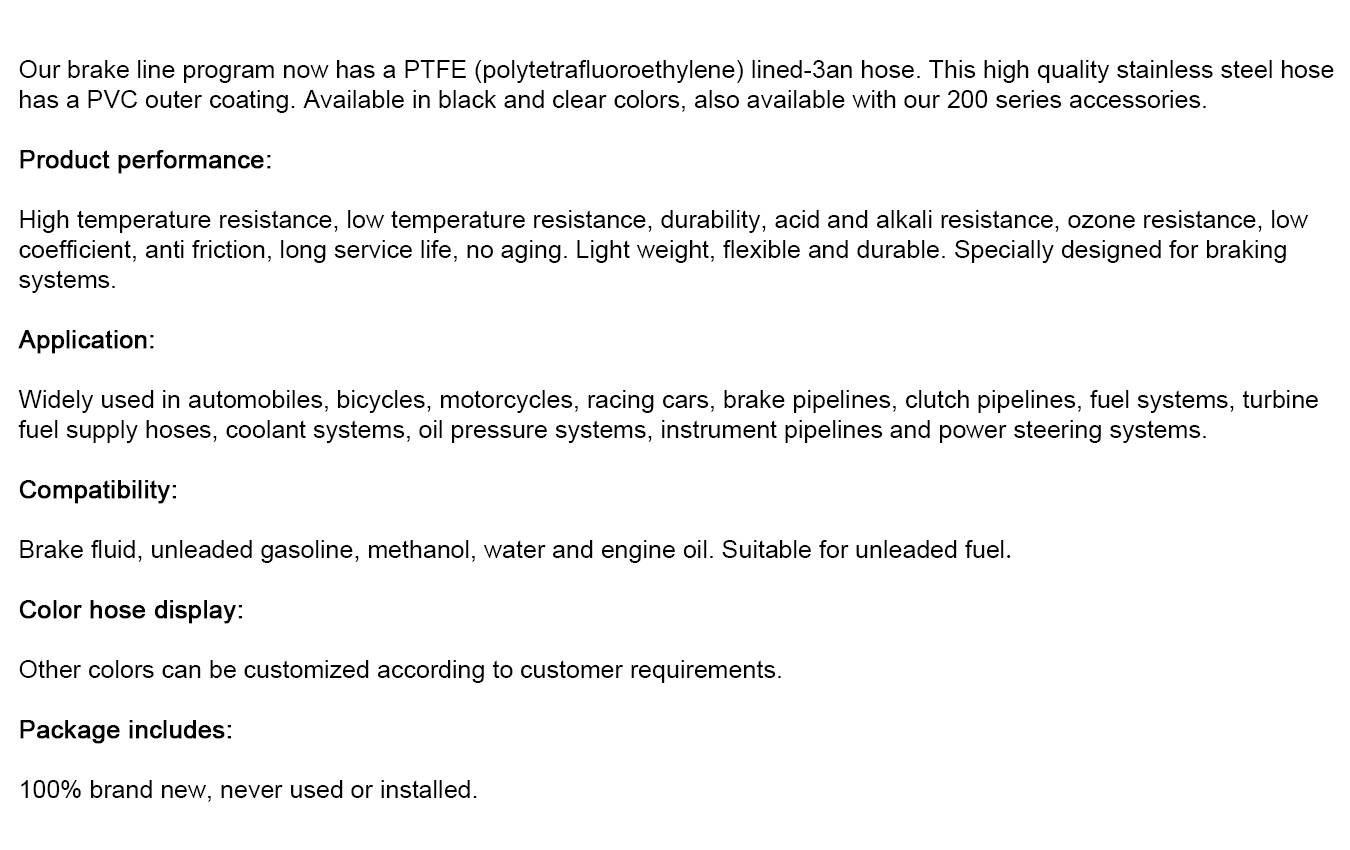 No.

Inner diameter

Outer diameter

Tube Wall




Thickness

Working pressure

Burst pressure

Minimum bending radius

Specification

sleeve size

(inch)

(mm±

0.2)

(inch)

(mm±

0.2)

(inch)

(mm±

0.1)

(psi)

(bar)

(psi)

(bar)

(inch)

(mm)

ZXGM112-04

3/16"

4.8

0.358

9.1

0.033

0.85

2936

203

11745

810

2.953

75

-3

ZXTF0-03
ZXGM112-05

 1/4"

 6.4

 0.409

 10.4

 0.033

 0.85

 2646

 183

10585

730

 3.189

81

 -4

 ZXTF0-04

ZXGM112-06

 5/16"

 8.0

 0.512

 13.0

 0.033

 0.85

 2429

 168

 9715

 670

3.622

92

 -5

 ZXTF0-05

ZXGM112-08

 3/8"

 10.0

 0.591

 15.0

 0.033

 0.85

 1958

 135

 7830

 540

4.331

110

 -6

 ZXTF0-06

ZXGM112-10

 1/2"

 13.0

 0.701

 17.8

 0.039

 1.00

2272 

 113

 6818

 450

 7.165

182

 -8

 ZXTF0-08

ZXGM112-12

 5/8"

 16.0

 0.854

 21.7

 0.039

 1.00

 1233

 85

 4930

 340

 8.307

 211

 -10

ZXTF0-10
ZXGM112-14

 3/4"

 19.0

 0.969

 24.6

 0.039

 1.00

 1015

 73

 4205

 290

 

 338

 -12

ZXTF0-12
ZXGM112-16

 7/8"

 22.2

 1.091

 27.7

 0.039

 1.00

 870

 60

 3480

 240

 

 421

 -14

 ZXTF0-14

ZXGM112-18

 1"

 25.0

 1.220

 31.0

 0.039

 1.50

 798

 55

 3190

 220

 

539

 -16

 ZXTF0-16
---
---
  Question 1:What is the delivery date of my order?
  A: It usually takes 5-40 days, which usually depends on the quantity of your order and our storage. For more information, please feel free to contact us and we will reply you within 24 hours.
  Question 2: How to place an order?
  1. If you are interested in our products, please tell us which model and quantity you need.
  2. We will quote for you as required.
  3. After confirmation, the invoice will be sent to you.
  4. After receiving your deposit, we will produce as soon as possible.
  5. Delivery after production.
  Question 3: after-sale service.
  A:Track the status again and again until the product arrives, and try to solve any problems you mentioned.
Write your message here and send it to us